Spa, Bath &
Grooming
Services
We are a salon-style dog spa focused on ensuring all dogs have a positive and luxurious experience. We offer top-of-the-line products, massage, and cageless grooming!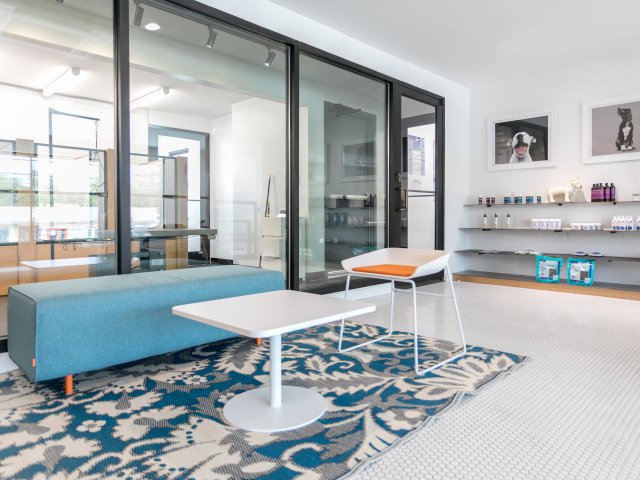 Bath time can be stressful for both owners and pets alike. At Barkin' Creek Dog Kitchen & Bath, we create a safe and fun environment for your dog, ensuring our canine friends have a positive and rewarding experience.

We offer many spa, bath and grooming packages, as well as add-ons and a-la-carte services.
Would you like to book a spa service for your favorite pup?
Request an appointment today!
For more information on pricing or to obtain a quote, please contact us.
Request Appointment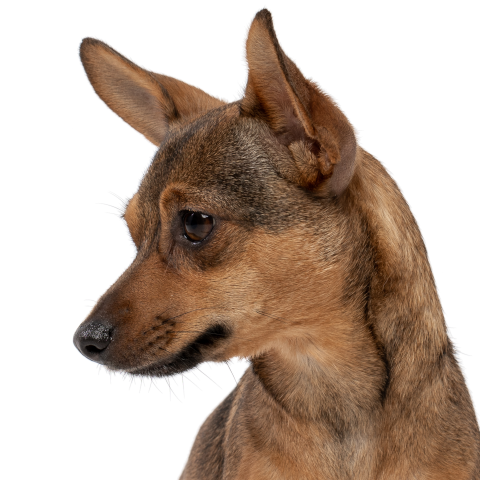 What makes us different?
Fear-Free Environment

The Barkin' Creek Spa offers a fear-free environment and customizes every session to the current needs of your dog. Whether your pup is aggressive toward the drier, has a difficult cut, gets anxious or is elderly and unable to walk upstairs, we will accommodate them with open paws.

Love and Care by our Spa Family

Throughout the entire spa experience, your dog is loved and cared for by our spa family and is constantly rewarded with delicious and healthy treats to keep them happy and motivated to behave.

By Appointment Only

Our spa is by appointment only and is one of the only grooming locations in the area that works like a traditional salon. All appointments are made for a specific time -- just like your salon! There are no all-day drop-offs, where you leave your pet with an unknown cashier only to return hours later when the dog is done. We offer a much more personalized and hands-on experience for both you and your pup.

Top-of-the-line Pet Care Products

We use only top-of-the-line pet care shampoos and conditioners, such as Chris Christensen -- a favorite at the Westminster Kennel Club Dog Show! We also take special care considering and addressing noise control in the bath and grooming area, to keep stress levels down.

No Cages

Your pup is never put in a cage. Rather, if you are running a little late for pick-up, your dog enjoys a special suite while waiting for you to arrive. Our suites have clear walls, creating a safe space so your furry friend never feels alone.

*Zilker location exempt

Tailored to you and your pup

We offer many spa services including mud baths, conditioning rinses, massages and/or blow-out treatments! Every session is different and 100% tailored to you and your pup's needs.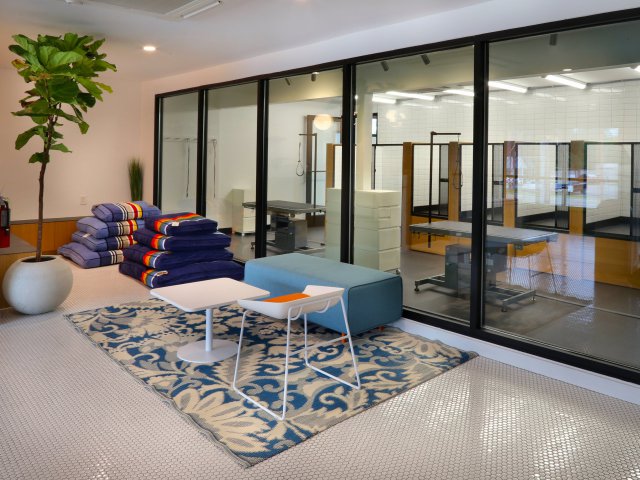 What To Expect
At your specific appointment time, both you and your dog come into our beautiful space and meet with the groomer performing your dog's spa services.

Your groomer spends about 10-15 minutes performing an intake, to discuss package options, listen to your questions and requests and provide a quote for pricing. During this time, you and your groomer will inspect your dog and look for any health hazards or areas needing special attention.

All our managers and groomers go through "Fear Free Training," ensuring your pet has the best experience possible while at Barkin' Creek.
Spa Services
And Packages
All of our grooming services include handwashing in a stress-free, treat-filled environment. Our goal is to keep your pet relaxed, rewarded and rejuvenated.
Basic Bath Package
Our Basic Bath Package is a great starting point and includes many high-end services for your pup.
Chris Christensen shampoo and conditioner
10-minute massage with blueberry facial
Blow-dry with our high-velocity dryer
Brush of the coat for up to 20 minutes
Nail File
Ear Cleaning
Anal Gland Check
Teeth Cleaning with Enzymatic Foam
Clean-up Package
Perfect for pooches who do not need a body haircut, but do require trimming of the face, feet, and/or sanitary areas!
Everything in our Basic Bath Package
Trimming of the eye corners and light visor trim
Trimming of the base of the tail / Sanitary trim
Shaving of paw pads and light foot trim
Great for in-between full grooms on our fluffier friends!
Full-Service Groom Package
Does you pup need a little extra primping and pruning?
Everything in our Basic Bath Package
Full-body custom hair cut
10 to 15-minute consultation with your groomer at drop off to discuss your perfect groom
Our groomers can accommodate Breed Standard or Personality Cuts for your pooch
Check out with your personal groomer to ensure satisfaction
Would you like to book one of these packages for your sweet pup?
Request an appointment today!
Request Appointment
Add-On Spa Services
In addition to our standard spa services and packages, we also offer several add-on and a-la-carte services for your furry friend.
We recommended deshedding for both double coat and smooth coat dogs. It's a great add-on to any package!
3-step deshedding shampoo system that features Coat Release Technology™ by Best Shot. This includes a shampoo and conditioner designed to release the undercoat and leaves your pet's coat light and smooth!
Blow-dry with our high-velocity dryer, to help push out the released undercoat
Up to 45 minutes of brushing using deshedding tools, slicker brushes, combs, and rakes
A soothing add-on to any groom and great for senior dogs with achy joints!
Madra Mor Luxury Mud Bath -- This is applied in a fifteen-minute doggy massage to relax your pup's muscles and work the mud thoroughly into the skin and coat
High-velocity drying after a light spritz of a leave-in conditioner and up to 20 minutes of brushing
Does your pup suffer from dermatitis or other bacterial skin issues? This quick and easy add-on helps alleviate your pet's current or recurring skin issues. We can even use any medicated shampoos prescribed by your veterinarian.
A medicated benzoyl bath, which helps diminish scaling, flakey skin, and flushes clogged pores
Our soothing ketohexidine wash, which prevents and heals fungal and bacterial growth associated with buildup of excess moisture in the skin
Make your white dog sparkle and shine with our K9 Sterling Silver pigment enhancing shampoo. A great addition to any bath or groom service!
Completely eliminate your pet's parasite problems with our natural flea & tick shampoo.

Derived from plant-based materials and infused with aloe, this treatment is safe for puppies up to 12 weeks old, helps soothe skin irritation caused by those pesky parasites, and kills all life-stages of parasites.
Up to 20-minute soak to ensure proper usage
All add-ons are priced based on the size of your pet:
| | |
| --- | --- |
| Small dogs | $ 10 |
| Medium | $ 20 |
| Large | $ 30 |
| Extra Large | $ 40 |
A-La-Carte / Walk-In Services
We offer a-la-carte and walk-in services for those pups in need of a quick fix. A-la-carte services are priced as marked.
Use of dremel tool to shorten nails in the healthiest and safest way possible. Helps to prevent nail cracking, makes sure that nails are as short as they can be, and ensures no jagged edges after service.
Shaving of the paw pads to prevent slipping between full haircuts.
Who doesn't love a little pampering? Our signature "Pawdicure" Includes a nail file and a pad trim.

Application of enzymatic teeth foam to help break down the tartar in your fur baby's mouth.

Clean out the ears safely with cotton swabs and alcohol-based products to ensure no moisture is left inside the ears. Swing by after a swim!

Your groomer will check to see if anal glands are full, and they will only provide the service if the glands are full and can safely be expressed externally.

If internal expression is needed, we will recommend a trip to the vet and there will be no charge for the check!
Would you like to schedule an a-la-carte service for your furry friend?
Request an appointment today!
Request Appointment