Barkin' Creek Kitchen
We take care of your pet on the inside and out. Our ingredients are locally sourced, cooked in-house, and include key nutraceuticals to keep your pet healthy!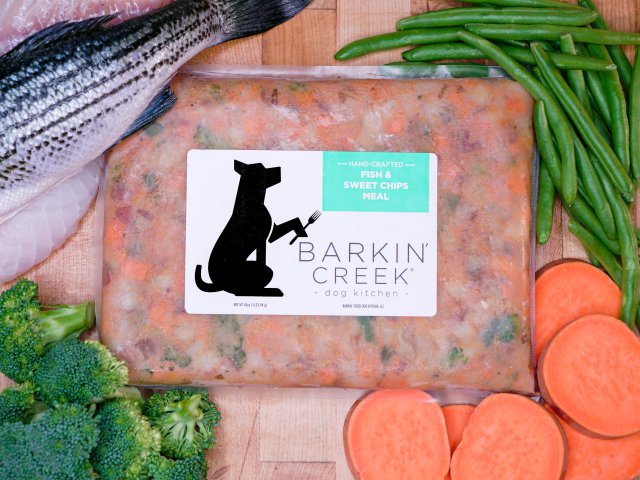 Does your dog have dietary restrictions, food allergies, or health issues? Are you looking for a healthy alternative to store-bought dog food, so your pet can live a longer and have a healthier life? We can help!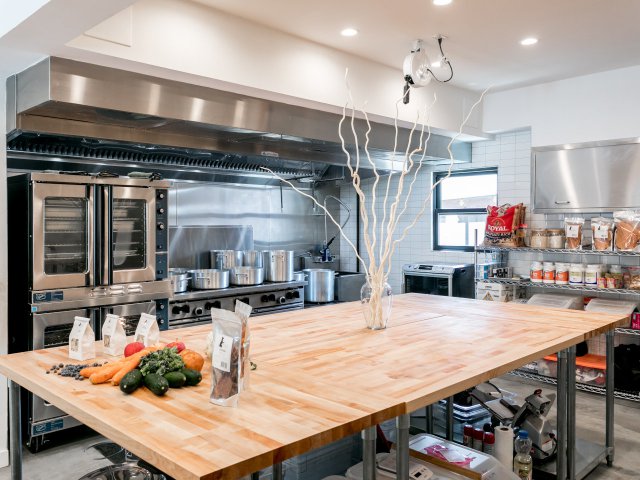 The heart of Barkin' Creek is our kitchen — always teeming with activity and producing meals and treats for your pets daily. Our mission is to promote dog health and happiness so our best friends live longer lives.
Visit our online store and get your fur baby started down the road to healthy living.
We offer both in-store pickup or at-home delivery for all our meals, snacks, and bark.
Shop All Food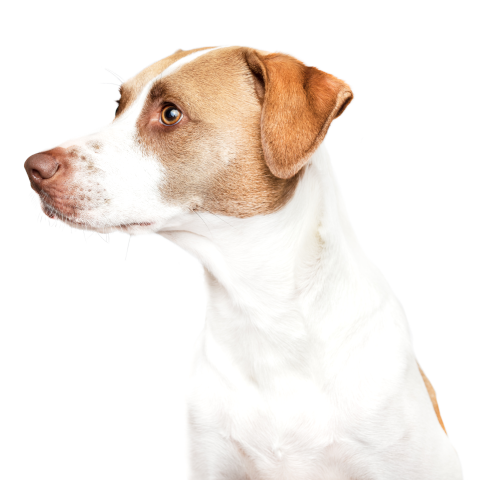 Why Homemade Dog Food?
A few years ago, our adopted dogs Bea and Jax suffered from dietary and health issues that created the need for specialized foods. Through our research, we learned most dog food is mass-produced and supplemented with copious amounts of sugar, salt, and animal by-products, as well as chemicals and toxins used to increase shelf life. This didn't fly with us.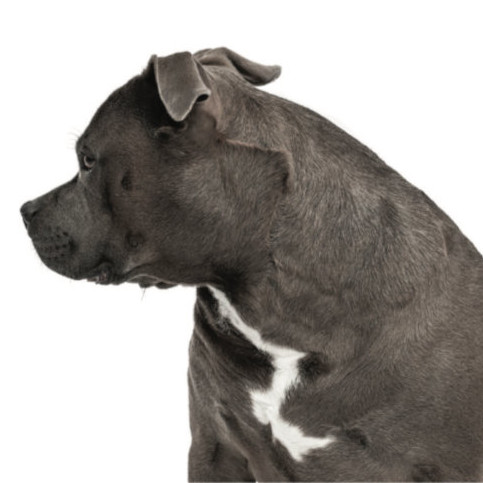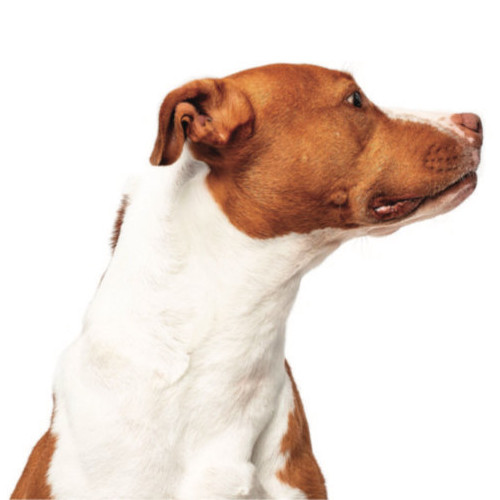 We learned that serving standard store-bought food to our pups can have a negative impact on their health and well-being. Poor nutrition choices lead to malnutrition, allergic reactions, toxicity, obesity, shorter lifespans, and even death.
So we tossed out the canned and dried dog food and got to work cooking. We selected wholesome ingredients from our kitchen and added the right balance of supplements to create nutritious meals for our own dogs… and voilà, Barkin' Creek Kitchen was born!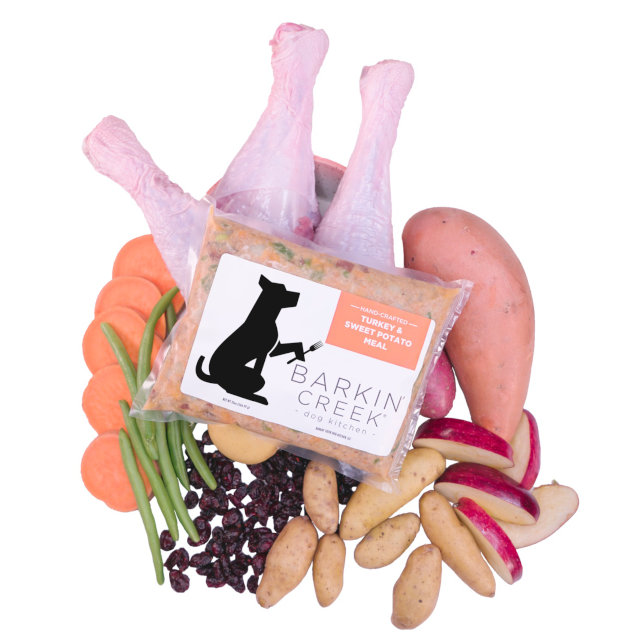 What makes us different?
Transparency

We believe in transparency. Our kitchens are open concept, so visitors can see how their pet's food is made and the wholesome ingredients that we use. You can even speak with our Chefs face-to-face!

Unbeaten customer service

Our customer service is unbeaten and our goal is to make sure all our clients and pups are happy. Didn't have a great experience? Tell us right away -- we'll fix it!

Locally sourced high-quality ingredients

Each recipe uses locally sourced human-quality meats, fruits, and vegetables. We believe in supporting our local farmers and businesses.

Handcrafted meals

Meals are handcrafted in small batches in our on-site kitchens to ensure quality control and consistency. Nothing leaves our kitchen that we wouldn't eat ourselves.

Best nutrition for your pet

All meals are made of 100% real food, chemical-free, and we add fortifying nutrients to ensure your pet is receiving the best-balanced nutrition possible. No bagged or canned dog food will come close. Period.
Human-grade Dog Food You Can Trust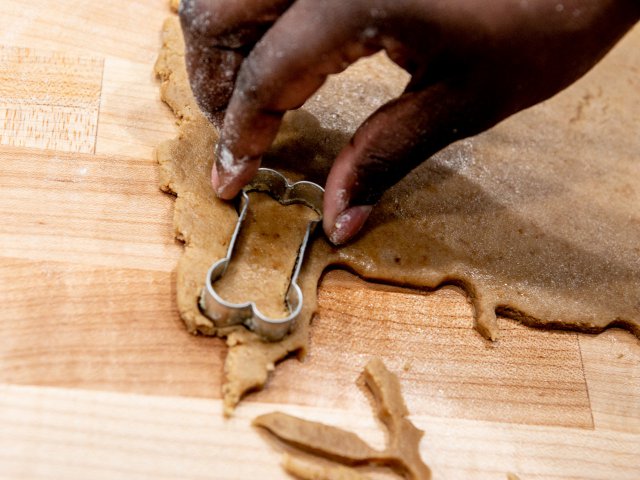 We carefully prepare each delicious recipe daily by hand using USDA quality, human-grade, meats, fruits, and vegetables. All Ingredients are locally sourced and our meals are formulated to meet the nutritional levels established by the AAFCO Dog Food Nutrient Profiles for all stages of life.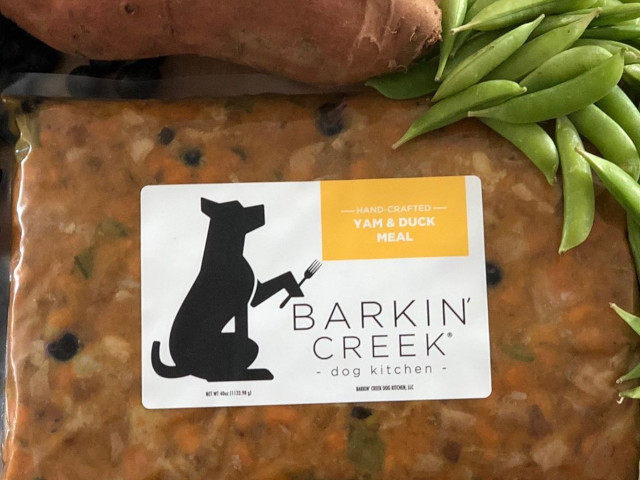 Before the final mixing of our meal ingredients, we add our homemade nutraceutical formula. This proprietary blend is chock full of Omega-3 and Omega-6 fish oils as well as multiple vitamins and minerals.

Our dog meals are flash-frozen and can stay in your freezer for up to a year. Once defrosted, Barkin' Creek meals can be served to your pooch warmed-up or cold.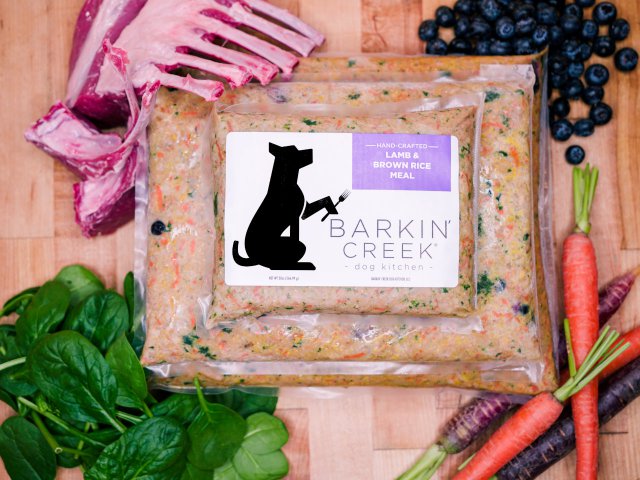 Hand-crafted Meals
All of our delicious meals are full of ingredients that you serve your family. We promise that your dog will be impressed and left wanting more!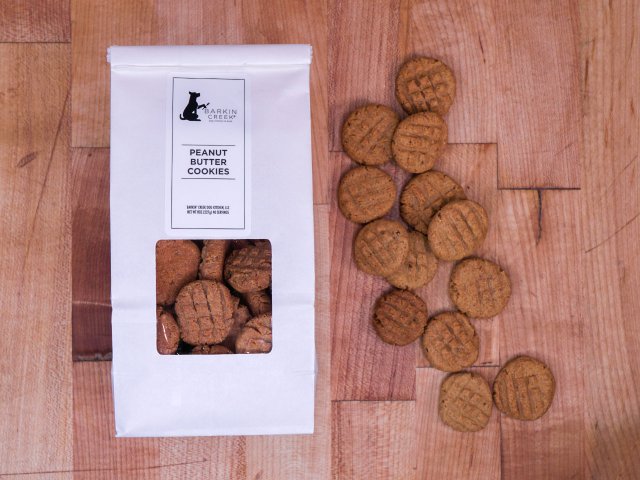 Baked
Snacks
All of our cookies and crackers are baked in-house with 100% real ingredients and are sure to be a hit with your furry friend.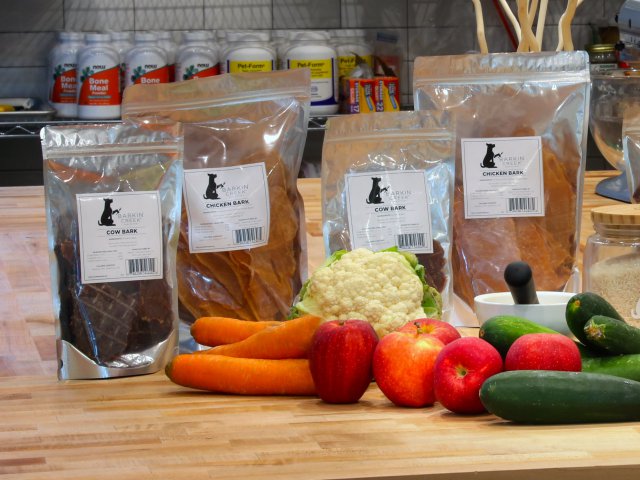 Bark
Snacks
Our Bark Snacks are made from 100% meat and are handcrafted and dehydrated in-house, using only human-quality ingredients. All our meats are locally sourced and free of harmful chemicals or antibiotics.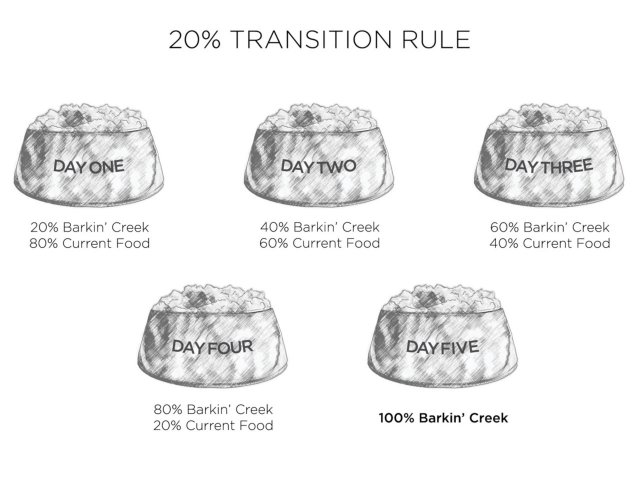 Switching Dog Food
When you make the decision to switch your dog to a new food, it is necessary to gradually add the new food over a period of time to prevent stomach upset. This even includes switching between any of our recipes.

To ensure a smooth transition, we recommend the 20% Transition Rule and suggest transitioning over a period of 5 days. If your dog has a sensitive stomach, the transition may take 7-10 days (adjust percentages accordingly).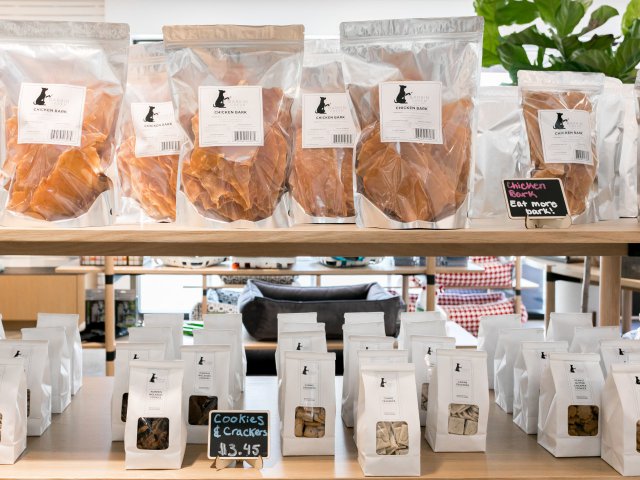 You can buy any of our meals, snacks, and bark in our online store and have them delivered right to your door. You can also visit one of our locations to see the kitchen in action and select your meals in person.
Delivery & Shipping Guidelines
Our meals and snacks are handmade in our on-site kitchen and delivered directly to your front door frozen.
In order to maintain the quality and integrity of our products, shipments leave our stores between Monday and Wednesday each week
If you live outside Texas, we ask that you purchase a minimum of 4 packs of food to ensure they remain frozen during transit to you and your pooch
All treats, cookies or bark can be shipped via USPS, by placing a separate order